Thursday Travesty or Triumph III
Well, the small number of commentators seemed to like Parc Diagonal Mar, as it went three for three in the triumph category.
Today's site is Capitol Plaza, located in the neighborhood of Chelsea Heights in New York, New York. The design is primarily by Thomas Balsley, who has been practicing in New York since the seventies. Some of his best known projects include Skyline Park in Denver, Chelsea Waterside Park in Manhattan, and the residences of Martha Stewart and Donald Trump. Capitol Plaza is on a much smaller scale than those projects, occupying a brief alley-like space between W 26th and W 27th Streets.
(click on image to go to a detailed plan view of the site)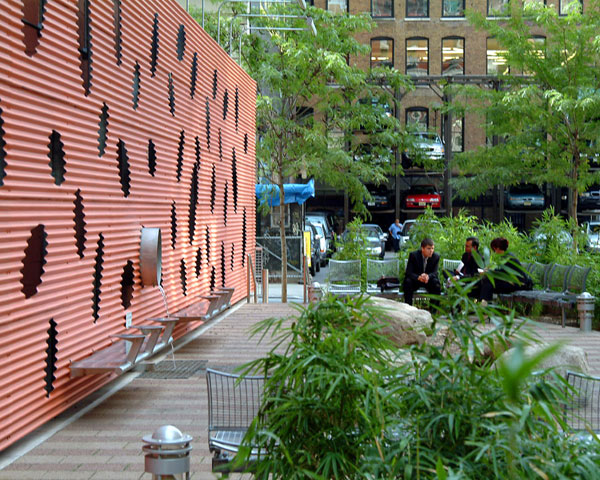 The park features a multitude of "whimsical" (that's Balsley's description of them) seating options, seen in use here: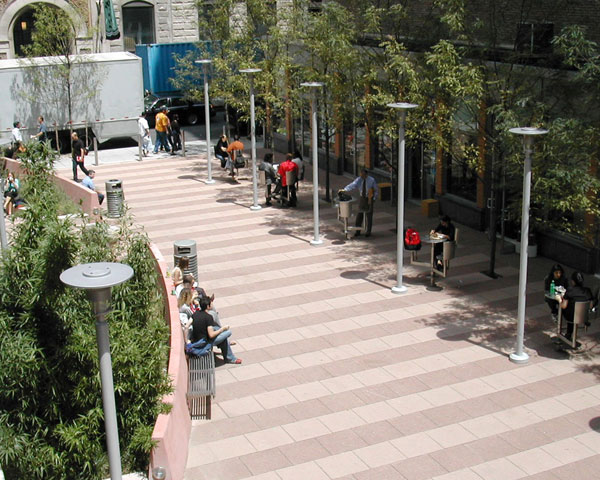 I find the plant material interesting, I'm always a big fan of Asian plant material, and Balsley's done some interesting things with the bamboo, particularly as it peeks through the ellipsodal openings in the orange grate.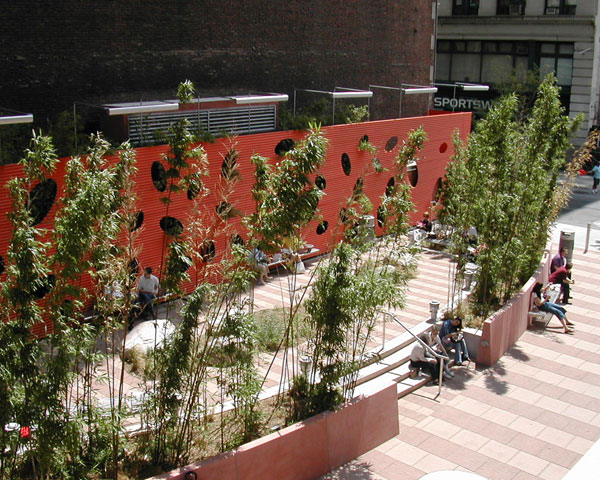 Here's a brief list by Balsley of characteristics he aimed for in designing the plaza (he gets bonus points for dropping the Jane Jacobs reference):
"* Keeping the plan uncomplicated and making clear sight lines to prevent fears related to personal security;
* Lighting it well at night;
* Encouraging a pedestrian flow through the plaza at all hours it remains open. The condo building next to Capitol Plaza faces south, and a secondary exit into the plaza encourages residents heading north to cut through the space;
* Designing to 'keep eyes on the plaza,' he said, paraphrasing Jane Jacobs. For instance, Balsley insisted that a strip of land, only 8 feet wide and extending 100 feet along the plaza's northeast edge, be given over to retail. 'That parcel wasn't part of the bonus plaza, and the developer was going to turn it into a place for parking stackers [contraptions that raise cars],' he said. 'That would have left a blank wall there, which wouldn't do.' Hoping for the city's longest cappuccino bar, he had to settle for hip-hop shops. 'The important thing is people come in and out of there, which is a lot better than a blank wall.'"
Quote is from LAM's feature on it. Go here and here for more images and so on, if you're interested.
Posted by eatingbark at
11:52 PM
|