Thursday Travesty or Triumph II
Well, we had only five votes on last weeks Travesty (three for travesty, one for triumph, and one avoiding bifurcation, which makes it a travesty). I'm sure Ms. Schwartz will be crushed to see her design trampled on like that. I do have to say that the vote count was a bit... disappointing... a lot of folk are coming by and not commenting, which is not surprising, but it is a tad disappointing, I don't know if you readers realize this but the interweb is only as exciting as you make it! If you don't interact with the interweb it can't interact with you!
Um, so on to the piece I have selected for today.
The Parc Diagonal Mar (Barcelona, Spain):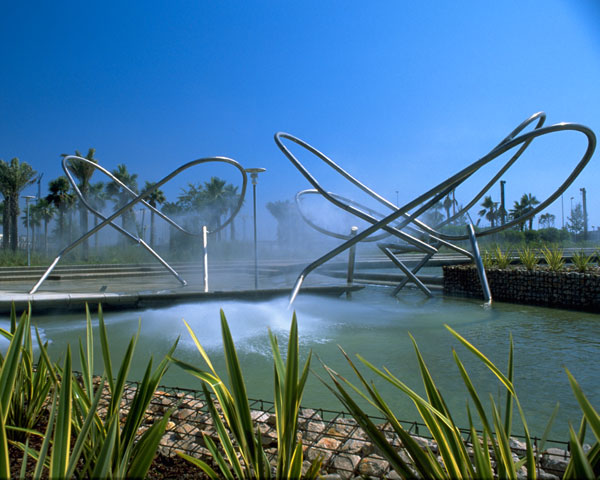 If the Parc Diagonal Mar were any more contemporary, it would pop. Or possibly explode. At any rate, it was just completed. It has received a mixed reaction from the design community. For example, the ASLA has given it a General Design Award of Honor, which is pretty decent (though not top prize -- that would be the Award of Excellence). They also wrote an article defending it against its critics back in 2004, partially viewable here (for whatever reason, the ASLA hates to have people read its magazine -- pretty much the only way to get your hands on a copy is to become a landscape architect or at least a student; I've been trying for months to find issues in bookstores and have been totally foiled).
On the other hand, its critics have been pretty harsh, as well. The Project for Public Spaces has derided it for the typical reasons they deride things: inaccessibility, emphasis on aesthetic design over functional design, sterility, and so forth (I should note that its defenders hold that these charges are inaccurate, not unimportant as modernists (or "Design Bunnies" as I like to refer to them) tend to hold in their worst moments).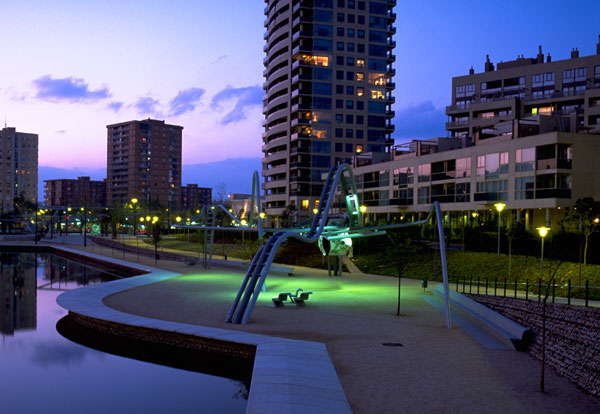 On to the design of the site. The park apparently has six main features (in terms of use; this would be distinct from features as they might be approached from a purely aesthetic standpoint): "fountains, a sports and amphitheater area, a bar, "magic mountain" for young children, a play area for infants and toddlers, and a dog area. All these uses are grouped around the generous water area that cuts through the site like the Avenue Diagonal cuts through Barcelona." (Quotation from A Weekly Dose of Architecture) One of the charges leveled at it by its critics is that children tend to lose interest quickly in the areas intended for them (the designated "playground" areas) and instead spend their time on areas not necessarily intended for play. (this is probably a characteristic of children, not the park, though, if you ask me)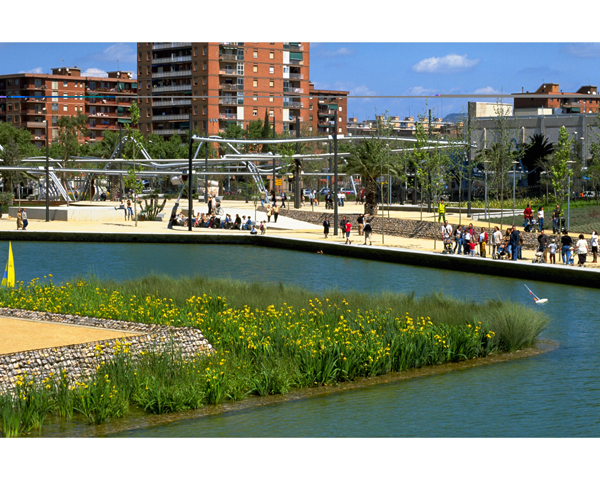 If you have flash, you can go navigate a confusing presentation about the design at on of the design firm's websites. (the other design firm is American giant EDAW)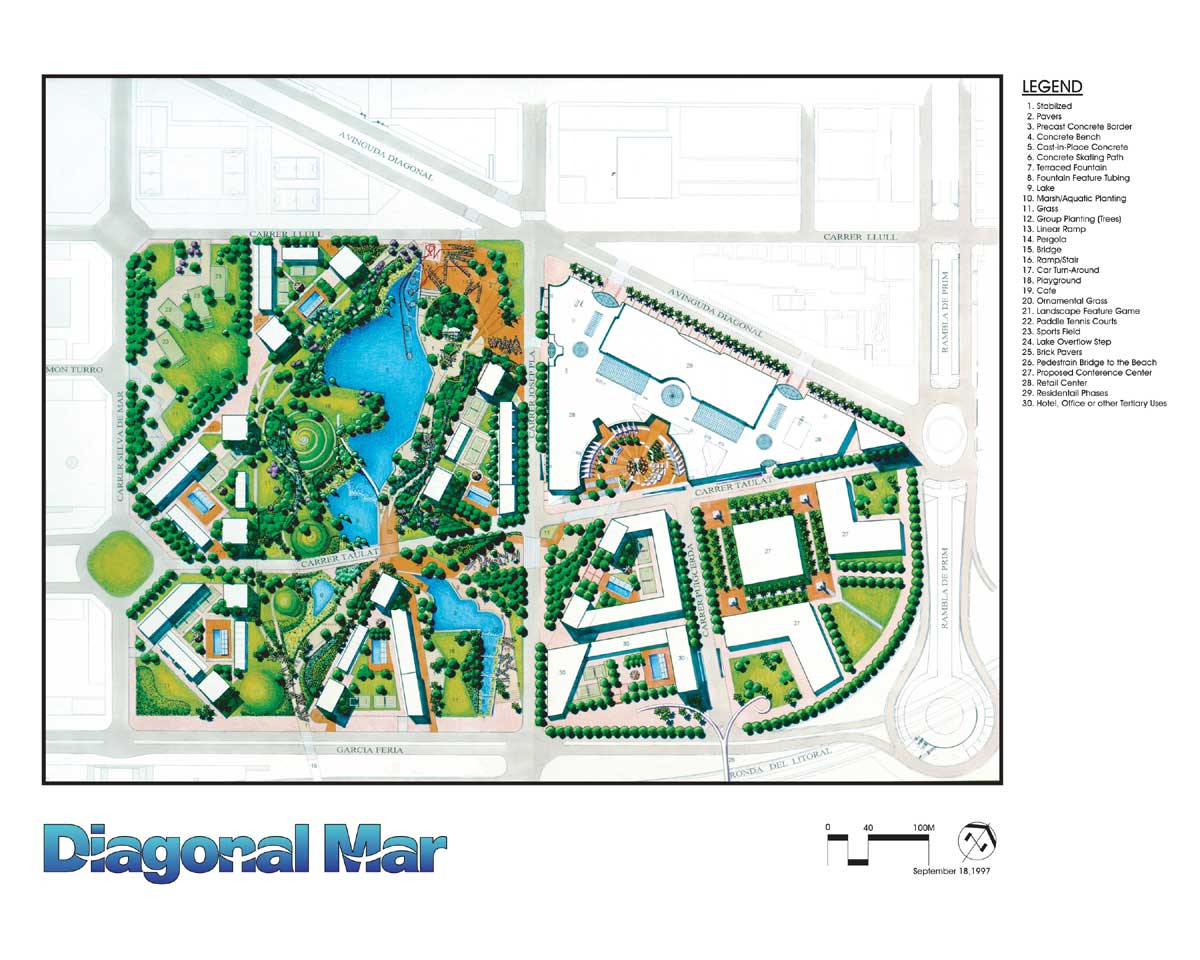 Click on the picture for more pictures at the ASLA's website (picture is from ASLA website and is a plan as developed by EDAW)
The park is intended to create a connection between pedestrian circulation along the main avenues of Barcelona a portion of the waterfront, so perhaps its success or failure should be determined primarily by a judgment about its fulfillment of that intention, but, unfortunately, you and I are forced to judge it mostly from static images, so that will not be possible.
Vote! Travesty or Triumph!
Posted by eatingbark at
11:04 AM
|